Who are our staff?
Starfish summer staff are people who represent more than 100 professional fields of study.
Some of the most popular are Special Education, Social Work, Psychology, Behavior Analysis (ABA), Youth Development, Therapeutic Recreation, General Education, Human/Family Services, Mental Health Counseling, Phys Ed, Music/Art Therapy, Physical Therapy, and Occupational Therapy. Many of our alumni have gone on to careers in these fields and credit Starfish for getting their foot in the door or for teaching them skills they continue to use in their daily work.
You do not need to be studying one of these things – or studying anything – to work at Starfish. However, for those who are interested, we offer internship and fellowship opportunities which can help you accumulate credits towards a relevant degree.
Jobs and Descriptions
Front-Line Staff: Specialists
Our front-line staff are Specialists (campers will know you as "counselors") who live in a cabin with children and help campers have the best possible experience, which includes the basic functions of providing behavior management support, working with goals, and guiding campers through their stay. All Specialists live in cabins with children, helping ensure their time at camp is beneficial and growth-oriented. During the day, campers participate in activities and staff are spread out in several roles across camp which facilitate this.
The different specialist positions include:
Group Specialists 
Group Specialists live in cabins alongside youth campers and accompany groups of campers through all daily camp activities. Responsibilities include encouraging camper participation, helping campers who may require additional time or explanation, supporting campers who may require extra attention, and implementation/monitoring of individualized behavioral plans. The group specialist role is a perfect fit for individuals wanting to work directly with campers in a broad range of camp areas and age groups.
Lead Specialists
Lead Specialists are experienced staff who are comfortable taking on additional responsibility in the cabin. In addition to the responsibilities of a Group Specialist, Leads are also responsible for nightly check-ins with staff and oversight of bunk structure. During daily activities, Leads work with their Group Specialists to provide support and structure to the activity group as their campers participate in different program areas.
Program Specialists
Program Specialists live in cabins alongside youth campers and are responsible for the curriculum and teaching of a specific program/activity area on camp. Program Specialists plan lessons and teach a variety of activities within a specific program area and in a typical day at camp, Program Specialists lead approximately 2-3 activity periods. When not leading your area, the rest of the day is spent with campers in other camp activities.
Program Areas include:
Activate! (sensory gym)
Arts & Crafts, Athletics
Boating (canoeing and kayaking)
Challenge (teambuilding and ropes course)
Dance
Discovery (wood working, raft building, etc.)
Drama/Theatre
Learning Center (STEAM activities)
Martial Arts
Music
Outdoor Cooking
Outdoor Exploration
Small Animals
Waterfront Specialists
Waterfront Specialists teach swim lessons and boating (canoes and kayaks) as well as supervise water safety at our waterfronts on Lake Monomonac. Waterfront Specialists will obtain lifeguard certification and serve as lifeguards during camp activity periods, free swims and camper reward time. Every camper receives a 1:1 swim lesson each day and Waterfront Specialists may teach anything from first-time swimmers to junior lifeguard levels. Camp Starfish will provide waterfront skills training to all Waterfront Specialists. Strong swimming skills and the ability to pass applicable training curricula tests are required. 
While Waterfront Specialists do spend much time at the lake, they also live in cabins alongside youth campers and participate in other aspects of camp life, including assisting campers who may need extra help and implementing and monitoring individualized camper behavioral plans.
CST Specialists
Camper Services Team (CST) Specialists work out on camp as Group Specialists as well as behind the scenes, providing support by emailing parents about campers' successes, monitoring and coordinating campers' goal progress and rewards, taking pictures, making sure campers return home with documentation of their skills growth, and more!
Leadership Staff: Administrators
Administrators ("Admin") are a team of leadership staff whose responsibilities include behavior management, program direction, staff and camper supervision and logistics management. We have a variety of administrator roles on our team, including: Village Administrators, Program Administrators, Waterfront Administrators, Camper Services Team Administrators, and a Staff Services Administrator. Please inquire for more information.
Support Staff Roles
Support/Kitchen Staff
Members of the support staff team work with the camp chef to prepare and serve three meals and two snacks each day to our camp community. In addition, support staff help maintain and ensure healthy and safe camp facilities, cleaning and sanitizing camp spaces on a daily basis.
Chef/Kitchen Manager
Camp Chef / Kitchen Manager is responsible for the food service operation at camp.
Nurse
Camp Nurses are responsible for providing health care for campers and staff, overseeing the administration of medications for campers and staff, coordinating visits to a doctor when needed, monitoring overall health and cleanliness standards, organizing health paperwork, maintaining camper and staff health records, and maintaining the medication administration records (MAR). 
Note: Nurses must have a current RN, LPN, or NP license valid in the state of New Hampshire. Compact state licenses allowed!
Health Assistants
Health Assistants work under the supervision of our Camp Nurses as integral members of our Healthy House team, which is responsible for providing health care and medications for campers and staff, monitoring overall health and cleanliness standards, organizing health paperwork and maintaining camper and staff health records. Health Assistants provide first aid, triage, and ongoing care for children and adults. Our Healthy House team allows children and staff to succeed at camp by ensuring that their health needs are met in a safe, efficient, caring, and nurturing manner.
Note: To qualify for this role, we look for professionals working in the healthcare field OR students who have completed at least 2 years in a health-care field of study and have had hands-on experience.
Office Assistant
This person is responsible for administrative duties including but not limited to: monitoring camp's phone line, filing and managing camper and staff paperwork, assisting with opening and closing day operations, preparing and delivering camper mail, and assisting in the camp store as needed. 
Maintenance
Site & Maintenance Staff ensure that camp is safe, clean and looking great. In addition to helping with sanitizing camp spaces, Site staff do landscaping, fix minor issues like broken screens or benches, and do general painting, upkeep and grounds work.  
If you are interested in one of the above roles, please inquire for more information!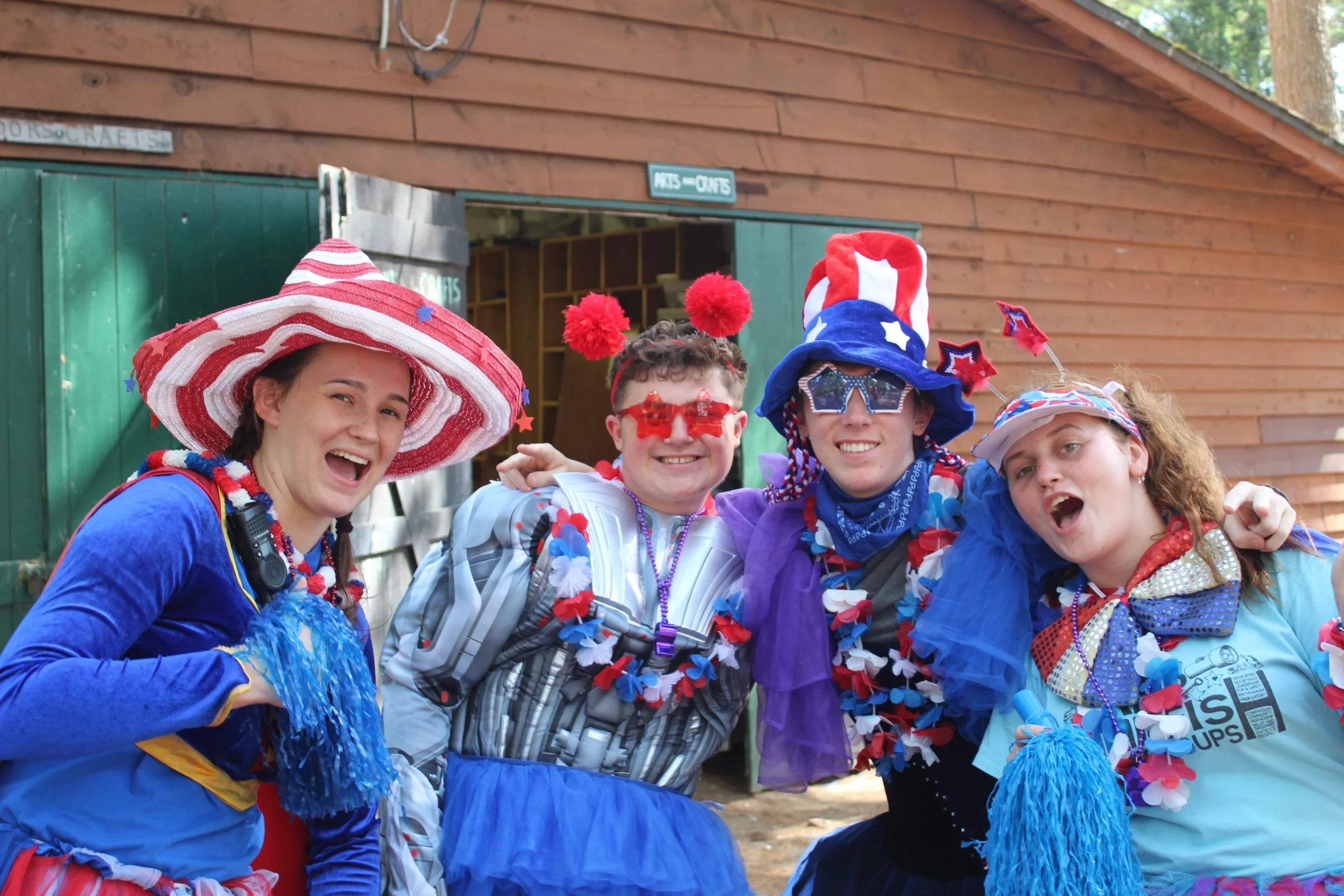 All-Around Support
We build our camp around support, whether that means for campers or for staff!
Many of our campers don't "need" a 1:1 staff-to-camper ratio 24 hours a day, but by providing it, we assure that they are able to find greater success, build skills faster, create stronger relationships, and have more fun. Similarly, our staff don't "need" a supervisor every minute of the day. But, by having plenty of them to go around, we ensure that our staff feel supported so they can do their best work, more quickly build their repertoire of skills and, of course, have a great experience at camp. That's why we prioritize staff supports, including:
Every staff included in a mentoring "Torchgroup" from Day 1
Routine & scheduled direct feedback
Unlimited opportunities for in-the-moment feedback & problem-solving
Goal setting, support & evaluation
Biweekly small group chats with a Director—topics chosen by staff
Staff encouraged to attempt behavioral interventions first
Supervisors available and in sight/hearing distance at all times
Supervisors trained to support staff efforts
Consistency & One-voice policy: staff decisions with children are supported
1:1 Ratio
We're one-to-one, all the time, always.
That doesn't include supporting staff or directors, either. We have one specialist for every camper, plus a team of 16+ leadership and supervisory staff (called administrators or "admin" for short), plus our directors, plus our nurse and support staff. Why?
It's not because every single one of our campers needs that amount of supervision or support minute-to-minute. But many of them do need the flexibility it provides. Most importantly, for the safety of campers and staff, we're never alone with kids. There's always a second set of eyes and ears around to offer a helping hand.
We're not one-on-one, so campers aren't assigned one staff member that's "theirs" for the session. In fact, they have a different staff member as their free-play buddy every day, with other counselors from around camp in their activities each block. But they know no matter what, there's an ear to listen to them, and a hand to hold.
That's why we're 1:1.
Space for Learning
Nobody's Perfect – and we don't expect you to be!
What's more important is that you are solidly, predictably present. That you listen and accept what you hear. That you are willing to be silly, friendly, understanding, empathetic, serious when needed, and a source of strength.
Soft Skills
Building your "soft" skills is as important as building your "hard skills," which are the knowledge and occupational skills you bring to the workplace. Soft skills include trustworthiness, inquisitiveness, self-confidence, work ethic, dependability, flexibility, team focus, and positive attitude. Over the course of a summer at Starfish, staff develop both their hands-on hard skills and those coveted soft skills that make them excellent camp staff and extremely valuable hires in their future career field.
Internships, certifications, and more!
Certifications
Just by completing the 2+ weeks of staff training, you become eligible for our Level I certification. As you work through the summer you may also choose to gain your Level II Care Specialist certification, which comes with a bonus and opens up opportunities for potential leadership roles on the team.
Depending on your summer position, you might be eligible for CPR and First Aid certification as well, amongst other certifications as well, including: wilderness first aid, emergency response, or other camp skills.
Internships
The internship program is available to each employee at Camp Starfish, either for personal experience or college credit. You can spend your summer at starfish all while working towards your degree!
If the internship program isn't something that works for you, additionally, "field placements," "co-ops," and "independent studies" are often a successful way to get credits if our training doesn't fit exactly into a particular class offered at your school. We have worked over the years with hundreds of schools, so it is also possible that talking with us about what you are trying to do might allow us to reach out to a connection at the school or to a staff alum who can give us guidance on what worked for them!
Fellowship
Individuals who participate in the Internship program at Camp Starfish are eligible to apply during the summer to participate in the Camp Starfish Fellowship. The year-round team of directors will select a handful of individuals to participate in the Fellowship Cohort. The Fellowship course starts that Fall and ends after completing the following summer season.
Once candidates are selected, they will work remotely throughout the year to build a self-directed project to enhance an area of work at camp, called a Community Contribution Project (CCP).
Project requirements
Full participation in guided discussions each week
20 volunteer hours of service
During the completion of summer 2
Coach and mentor new interns and potential fellows
After the completion of the different steps of the Fellowship, they will be a stipend provided to staff who continuously show their dedication for starfish. As long as it works with your school, there can be additional course credit for fieldwork and independent study depending on your school's requirements.
The Starfish Way
The Starfish way is all about making Camp Starfish a safe, supportive place to "learn, grow and have fun." Everything at Starfish is specifically geared to meet the needs and abilities of each bunk, activity group, and individual child. Staff consistently seek innumerable ways to provide campers with positive reinforcement while helping them to recognize and articulate their strengths.
At Starfish, we believe in "catching children being good" and capitalizing on those experiences as teachable moments, in addition to setting up therapeutic supports to help children during times when they are struggling.
The Starfish Way is based, amongst other things, on the ideas that:
Children are able to do well when the environment is designed to enable success
Regardless of their challenges, all children deserve to see themselves as valuable and valued individuals
The role of adults in the camp environment is to help campers find and enjoy success
Providing structured, nurturing and fun programs will allow children to grow in positive ways, and
Engaging campers in a variety of well-structured traditional summer camp activities in a safe and predictable environment will allow them to build skills, self-confidence, self-esteem and self-direction.
We primarily implement the Starfish Way through the use of our unique Strategies, Tools and Keys:
The Strategies are a guiding group of principles that are simple, yet powerfully effective concepts that form the basis of our behavior management philosophy, our daily structure and schedule, and the reason why we are able to set campers up for such great success.
The Tools are the values of Camp Starfish. They outline coping skills and personal intentions, and by teaching them, staff are able to help campers put behaviors and feelings into context. All camp rules are based on a tool.
The Keys are a set of social skills which we aim for every child to learn and work on during their time at camp, and then continue developing after camp. Difficulty relating to peers is one of the top factors that affect a child's self-esteem and identity. While Starfish campers come to camp from a wide variety of backgrounds with many different challenges that they face, one thing that most of them have in common is that they have a hard time making or keeping friends. Staff diligently capitalize on teachable moments to show when social skills are "caught" in action.
Cabin Life
Starfish cabins are comfortable and rustic, with electricity. Cabin groups are intentionally small – so campers can feel comfortable building social skills without becoming overwhelmed. In all cabins, campers sleep on the bottom bunk with a staff member occupying the top bunk above them. That means even at night, there is an adult just a reach away.
Within each village, are 3 to 8 other cabins and a wash house that includes toilets, sinks, and showers. Each cabin will contain approximately 3-7 campers with the same amount of staff or more! Staff help campers unpack on the first day into their cubbies, and then baggage is stored elsewhere on camp. Each camper will have shelves or cubbies provided to store all of their belongings.
Structure
"Structure" is something we believe in very strongly at Camp Starfish, because we know children thrive on it! They need routines to help them feel safe in a stable, predictable environment. Plus, our campers learn through repetition. When the campers know what to expect, then they know what to do, and then they can do the right thing and enjoy success. Anxieties are minimized, and so are the resulting behaviors. You can learn more about the Starfish Structure here.
Individual Camper Goals
By the time campers arrive at camp, our year-round directors have already received a great deal of background information about goals campers are working on at home, in school, in therapy, and in various other areas. Using this information our Camper Services Team creates a folder for each camper with a set of goals they work towards during the session. Each night, campers go over their goals individually with staff from their cabin. Together, they discuss efforts, reflect and provide specific examples made during the day towards their goals. Both the staff and campers reward points for each goal and the camper works towards their individual rewards and group Milestones.
Life in the bubble
Whenever you join a new community there are always periods of adjustment. Camp life – at any camp – is no different. Starfish offers a distinctive summer camp experience for staff and because of that, staff frequently phrase being at camp as "living in a bubble."
So what do we mean by that?
Living and Working in the same place with the same people
There are opportunities to get off camp during your time off, of course, but when you are on camp, your work colleagues are also your social group. That can be incredibly supportive and positive, and may also take some getting used to, especially when time alone is a destresser!
All the basics you need are right on-site!
This means that all foods and snack are fully provided, including those with dietary needs! We eat family style during meals times, but if you don't like what is on the table, that is okay! We usually have another option for you available, changing each time of day!
The bubble is dry, drug-free and smoke-free
Starfish is a non-smoking environment – there are several designated smoking areas for staff which can be used only when children are asleep. At no time may you be under the influence of alcohol at camp, and staff are expected to adhere to policies surrounding alcohol – even if you are underage, you will not drink during your employment with us. The safety and security of the campers, as well as of your colleagues, comes first. Staff joining our team need to be prepared that their social time might be different than it is back home.
The bubble has wi-fi, but not a lot of time to use it
While our campers are sometimes reliant on technology, we are a tech-free camp, well, at least in front of campers! Any form of technology, not including a battery operated alarm clock or plain old wrist watch, belongs in your starfish-provided locker and can be accessed during your time off. It can take some getting used to – but most staff find it ultimately to be a very liberating, eye-opening experience to disconnect a little bit and reconnect at your leisure.
The bubble is the best place in the world
When you are at camp everyday having a great time with your co-counselors and campers, sometimes it can be hard to fit in time for your outside, or "normal" life. The transition from having a large support network around you at most times of day to your regular life can sometimes be a tough adjustment. At the end of the summer, many staff feel a sense of loss as they leave the bubble and return to their off-camp lives.